OUR TEAM
Sean Carroll – Sean is one of the founders of Impasto 48. He previously worked in the financial services industry in Hedge Fund Administration for Morgan Stanley. His passion for business and a good challenge, led him to set up and run Impasto 48. His love of good quality food and a desire to change the current take away offering in Dublin from low quality options to high quality options has driven him to keep pushing boundaries and setting a goal for Impasto 48 to be known as the best Pizza and Pasta in Ireland.
Favorite Pizza – Impasto 48
Giorgio Lisi – Giorgio is one of the founders of Impasto 48. He is the Italian flair to the partnership. He helped design and source our fantastic pizza oven. If you want to know anything about Italian food, Giorgio is your man. He has spent years in the food industry in Italy and Ireland. He is a qualified master baker. He sources our ingredients directly from artisan producers in Italy and regularly visits these producers to ensure their high standards are kept.
Favorite Pizza – Napoletana
Mirella di Prinzio – Mirella is our head chef, she comes directly from the beautiful mountains in Abruzzo Italy. She has been living in Ireland for the last 5 years. She says it was the fantastic weather that brought her to these great shores. She loves music and is a great singer, so not only can she serve you up a fantastic plate of Italian deliciousness but you get a free opera concert too.
Favorite Pizza – Quattro Formaggi
Juha Salo – Juha is originally from Finland. He has lived in Ireland since 1994 so he knows what the craic is all about. He has been a chef all his life and has worked in some of the top restaraunts in Dublin. He has recently joined the Impasto 48 team and has launched a brand new Brunch menu available on the weekends. He will also be launching a new Dine in dinner menu for the summer months so keep an eye out.
Favorite Pizza – Piccante
Cyntia Paulino – Cyntia also hails from beautiful Brazil. She came to Ireland to study English back in 2019. She was also one of our first employees. She started out with Impasto 48 as a Kitchen Porter. She never shies away from a challenge and always has a smile on her face. Since starting with us she has been fully trained up as sous chef in the kitchen, and makes top notch tagliatelle bolognese.
Favourite Pizza – Quattro Formaggi
Monday – Friday
4pm – 10pm
 Saturday – Sunday
&
Bank Holidays
10am to 10pm*
  *Brunch Served*
10am to 3.30pm
For enquiries please call us on
01 832 0277 / 01 8320278
'Impasto48′  is an Authentic Italian Pizzaeria & Restaraunt based in North Dublin. It was established in 2019 by Sean Carroll & Giorgio Lisi.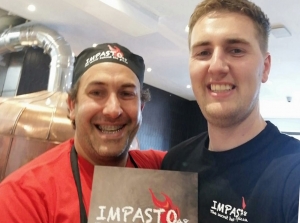 It was established with a simple goal in mind. To deliver the most authentic Italian pizza & pasta in North Dublin, with a strong focus on Neapolitan Pizzas. Our pizza oven was imported directly from the pizza masters in Italy to ensure our pizzas meet the top pizza standards.
The name 'Impasto' translates into english as 'dough' and '48' is the hours we leave our dough to ferment.
This is to ensure the dough for each pizza is perfect every time and the reason behind our name. Impasto48 – 'The secret behind the pizza'.
Impasto48 'The Secret Behind The Pizza'
Authentic Neopolitan Pizza
55 Kilbarrack Road, Raheny,
Dublin 5, D05 H6Y7
(01) 832 0277
 [email protected]
Site design by NEAT