Impasto48 'The Secret Behind The Pizza'.
Authentic Neaoplitan Pizza
Restaurant Opening Times
Mon to Thur
16:00 – 22:00
Fri & Sat
16:00 – 23:00
 Sunday
16:00 – 22:00
For enquiries please call us on
01 832 0277 / 01 8320278
Dine In & Take Away Menus
Get 15% OFF your 1st Online Order!
'Impasto48′  is an Authentic Italian Pizzaeria & Restaraunt based in North Dublin. It was established in 2019 by Sean Carroll & Giorgio Lisi.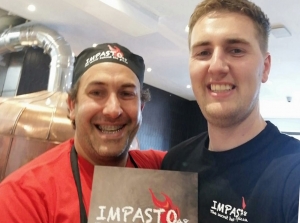 It was established with a simple goal in mind. To deliver the most authentic Italian pizza & pasta in North Dublin, with a strong focus on Neapolitan Pizzas. Our pizza oven was imported directly from the pizza masters in Italy to ensure our pizzas meet the top pizza standards.
The name 'Impasto' translates into english as 'dough' and '48' is the hours we leave our dough to ferment.
This is to ensure the dough for each pizza is perfect every time and the reason behind our name. Impasto48 – 'The secret behind the pizza'.
Impasto48 'The Secret Behind The Pizza'
Authentic Neopolitan Pizza
Click here to add your own text
Click here to add your own text
55 Kilbarrack Road, Raheny,
Dublin 5, D05 H6Y7
(01) 832 0277
 [email protected]
Site design by NEAT